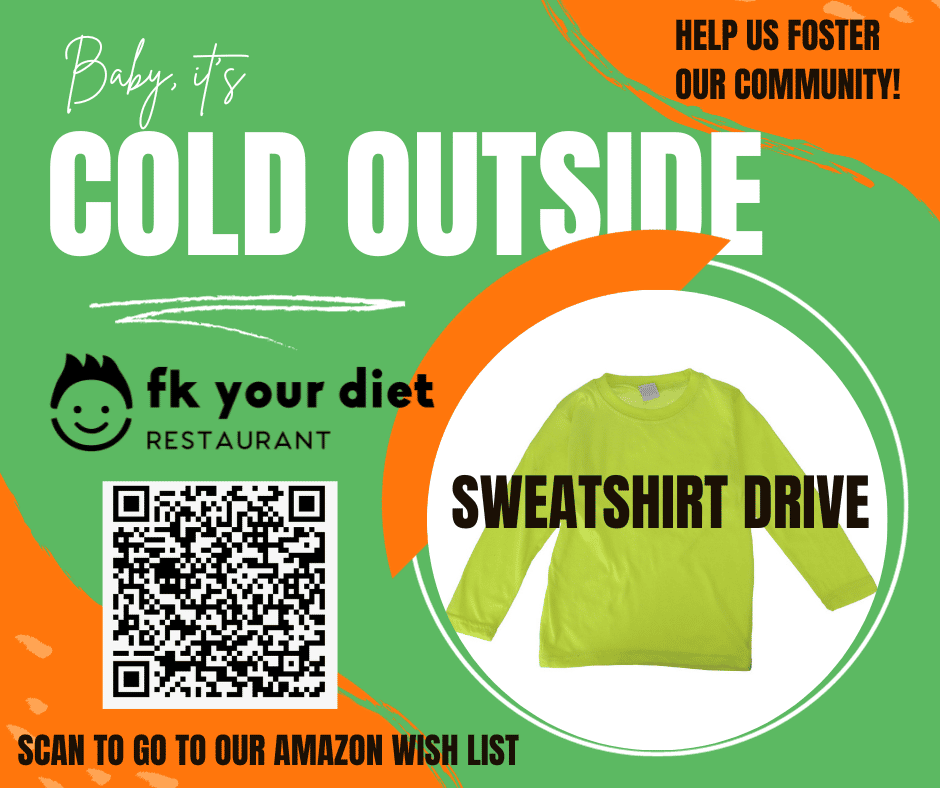 2023 FK Your Diet Sweatshirt Drive
2023 FK Your Diet Sweatshirt Drive
Baby - It's cold outside! Join FK Your Diet and FK U Corp in our annual sweatshirt drive , dedicated to supporting Foster Children and those in need within our community. We are also in desperate need of air mattresses for foster kids who don't have beds to sleep on and gift cards for families to purchase Thanksgiving meals !
As the mornings and evenings grow colder, it's important to remember that not everyone has the warmth and protection they need. That's why we're reaching out to gather all sizes of sweatshirts, from infant to adult.
At FK Your Diet and FK U Corp, we believe that every foster child deserves to feel special and included. We understand that for them, names like Nike, Adidas, and Champion hold significance and help them feel a sense of normalcy even during difficult times. So, we kindly request quality, brand-name sweatshirts to help fulfill this need.
There are several ways you can contribute to this wonderful cause. You can easily order directly from our:Amazon Wish List: https://tinyurl.com/fksweatshirtwishlistmake a monetary donation, become a GEM (Give Every Month) Member: https://www.fkyourdiet.com/donationsor personally purchase sweatshirts and drop them off at any of our convenient locations in Fort Myers, Cape Coral, or Punta Gorda.
Your support means the world to us and to those in need. Together, let's make a difference and provide warmth and comfort to foster children and others who deserve our care.