What does FK stand for?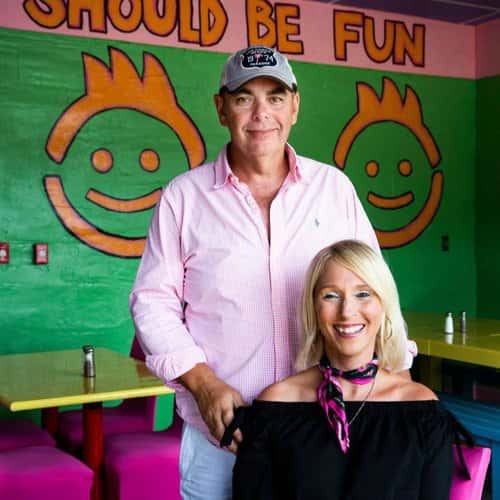 As a foster kid (that's what the FK stands for!) I was introduced to a number of different chefs growing up (foster moms = chef). To be honest, they were some of the most horrible chefs. Nine out of ten days the meals were awful! But… Ohh! on that tenth day the clouds would part and their inner Betty Crocker (if you're young, Betty Crocker was the original Pinterest for cooking) would emerge with vigor. The meal would be fit for a king. I spent 12 years as a traveling foster kid. Each new home had a new chef to stretch your taste buds (some good, but mostly not so much :)).
I never had much growing up, but I was fed. I didn't have the latest anything or the cool clothes, but I knew the chef was going to make her special recipe, Merry Christmas to me! So… food was a big thing for me. On the good meal days, I was like everyone else, I felt worthy and loved. Those meals are the ones on our menu. I hope they make you feel the same way.
After graduating from high school, I used all my experience and training as a foster kid to start a career in sales. It was a rewarding career that allowed me to afford a great life. If you ask me how I'm doing I always answer "LIVING THE DREAM". Like many, I got married, had a couple of sons and started showing my love for them the only way I knew how COOKING! I would cook for all the kids in the neighborhood and introduce them to foster kid cuisine. Some of those kids never left my house after eating. Lol! The kids I really liked to cook for were the ones who had it tough. You know, the poor kids like me. They really appreciated it. I was spending $500 per week at the grocery store to show my love to them. Now the kids are in various different stages in life like college or starting their careers.
Amy (my girlfriend) and I decided to retire to Florida at the ripe old age of 45. After taking a year and a half off, we have decided to open FK Your Diet to showcase foster kid food and give back to that community. Five percent of our revenue will be donated to foster kids. Not only will you get a great meal, but you will also be helping some child feel a little better.
Thank you for the honor of being your foster parent while you're in our restaurant.
We hope you enjoy!
Warm Regards.
Doug Miller & Amy Eldridge.